BY ISABEL DEBRE, EDITH M. LEDERER AND WAFAA SHURAFA
Updated 8:39 PM GMT+5:30, October 13, 2023
JERUSALEM — Palestinians began a mass exodus from northern Gaza Friday after Israel's military told some 1 million people to evacuate toward the southern part of the besieged territory, an unprecedented order ahead of an expected ground invasion against the ruling Hamas militant group.
The U.N. warned that so many people fleeing en masse — almost half the Gaza population — would be calamitous, and it urged Israel to reverse the order. Families in cars, trucks and donkey carts packed with blankets and possessions streamed down a main road out of Gaza City, the biggest city, even as Israeli strikes hammered neighborhoods in southern Gaza.
ISRAEL-HAMAS WAR: READ MORE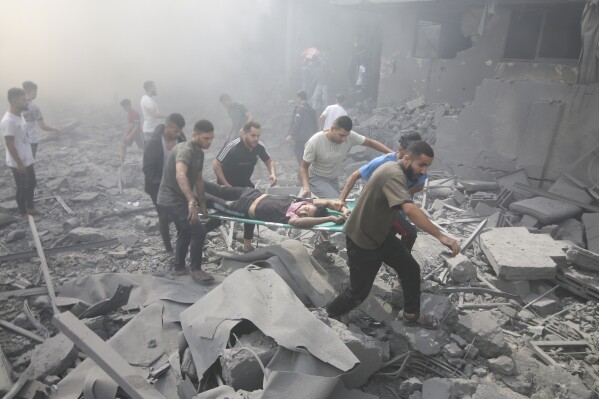 Israel orders the evacuation of 1.1 million people from northern part of Gaza, the UN says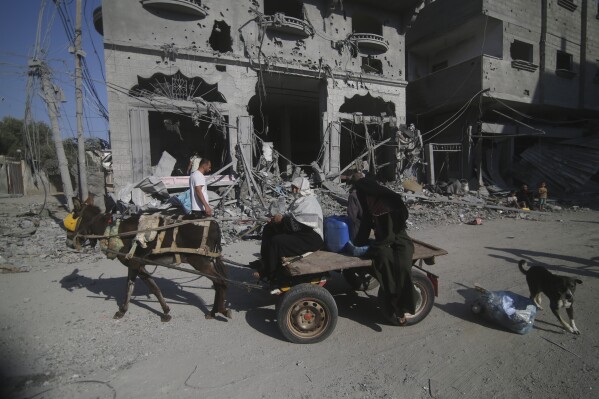 Live updates: Follow AP's coverage from Gaza, Israel and around the world
A music festival survivor fleeing the attack, a pair of Hamas militants and a deadly decision
Hamas, which staged a shocking and brutal attack on Israel nearly a week ago and has fired thousands of rockets since, called on people to stay in their homes, saying the order was "psychological warfare" to break their solidarity.
Many hesitated to leave, mostly because safety was uncertain everywhere in the tiny territory under constant bombardment by Israeli airstrikes. Gaza is sealed off from food, water and medical supplies and under a virtual total power blackout.
"Forget about food, forget about electricity, forget about fuel. The only concern now is just if you'll make it, if you're going to live," said Nebal Farsakh, a spokesperson for the Palestinian Red Crescent in Gaza City, as she broke into heaving sobs.
The Gaza Health Ministry said Friday that roughly 1,800 people have been killed in the territory — more than half of them under the age of 18, or women. Hamas' assault last Saturday killed more than 1,300 Israelis, most of whom were civilians, and roughly 1,500 Hamas militants were killed during the fighting, the Israeli government said.
The week-old war has sent tensions soaring across the region. Israel has traded fire in recent days with Lebanon's Hezbollah militant group, sparking fears of an ever wider conflict, though that frontier is currently calm.
GAZA POUNDED RELENTLESSLY SINCE HAMAS ATTACKS
Weekly Muslim prayers brought protests across the Middle East, and tensions ran high in Jerusalem's Old City. The Islamic endowment that manages a flashpoint holy site in the city, the Al-Aqsa Mosque compound, said Israeli authorities barred all Palestinian men under the age of 50 from entering.
Israel has bombarded Gaza round-the-clock since Hamas' attack, in which its fighters massacred hundreds in southern Israel and snatched some 150 people to Gaza as hostages.
Hamas said Israel's airstrikes killed 13 of the hostages in the past day. It said the dead included foreigners but did not give their nationalities.
Israeli military spokesperson Rear Adm. Daniel Hagari denied that, telling Al-Jazeera Arabic that "we have our own information and do not believe the lies of Hamas."
Israel said Thursday it would allow no supplies into Gaza until Hamas frees the hostages.
ISRAEL URGES MASS EVACUATION OF GAZA CIVILIANS
The military urged civilians in Gaza's north to move south — an order that the U.N. said affects 1.1 million people. If carried out, that would mean the territory's entire population cramming into roughly the southern half of the 40 kilometer (25 mile) long strip.
Israel said it needed to target Hamas' military infrastructure, much of which is buried deep underground. Another spokesperson, Jonathan Conricus, said the military would take "extensive efforts to avoid harming civilians" and that residents would be allowed to return when the war is over.
Hamas militants operate in civilian areas, where Israel has long accused them of using Palestinians as human shields.
"The camouflage of the terrorists is the civil population," Israeli Defense Minister Yoav Gallant said at a news conference with U.S. Defense Secretary Lloyd Austin. "Therefore, we need to separate them. So those who want to save their life, please go south."
But U.N. spokesperson Stephane Dujarric said it would be impossible to stage such an evacuation without "devastating humanitarian consequences." He called on Israel to rescind any such orders, saying they could "transform what is already a tragedy into a calamitous situation."
PALESTINIANS IN GAZA GRAPPLE WITH WHERE TO GO
Many Palestinians in Gaza still struggled with indecision, not knowing whether to leave or stay.
Gaza City resident Khaled Abu Sultan at first didn't believe the evacuation order was real, and now isn't sure whether to evacuate his family to the south. "We don't know if there are safe areas there," he said. "We don't know anything."
Another family contacted friends and relatives in southern Gaza seeking shelter, but then changed their minds. Many expressed concern they would not be able to return or be gradually displaced to Egypt's Sinai Peninsula.
More than half of the Palestinians in Gaza are the descendants of refugees from the 1948 war surrounding Israel's creation, when hundreds of thousands fled or were expelled from what is now Israel. For many, the mass evacuation order dredged up fears of a second expulsion. Already, at least 423,000 people — nearly one in five Gazans — have been forced from their homes by Israeli airstrikes, the U.N. said Thursday.
"Where is the sense of security in Gaza? Is this what Hamas is offering us?" said one resident, Tarek Mraish, standing by an avenue as vehicles flowed by. "What has Hamas done to us? It brought us catastophe," he said, using the same Arabic word "nakba" used for the 1948 displacement.
Gaza's Health Ministry said it was impossible to evacuate the many wounded from hospitals — already struggling with high numbers of dead and injured. "We cannot evacuate hospitals and leave the wounded and sick to die," spokesperson Ashraf al-Qidra said.
Farsakh, of the Palestinian Red Crescent, said some medics were refusing to leave and abandon patients and were instead calling colleagues to say goodbye.
"What will happen to our patients?" she asked. "We have wounded, we have elderly, we have children who are in hospitals."
The U.N. agency for Palestinian refugees, known as UNRWA, also said it would not evacuate its schools, where hundreds of thousands have taken shelter. But it relocated its headquarters to southern Gaza, according to spokesperson Juliette Touma.
ISRAEL SAYS RESPONSIBILITY IN GAZA LIES WITH HAMAS
Pressed by reporters on whether the army would protect hospitals, U.N. shelters and other civilian locations, Hagari, the Israeli military spokesperson, warned, "It's a war zone."
Hagari added: "If Hamas prevents residents from evacuating, the responsibility lies with them." The U.N. had said the evacuation order it received gave Palestinians 24 hours to move, but the military told the AP there was no formal deadline.
Clive Baldwin a senior legal adviser at the New York-based Human Rights Watch, said "ordering a million people in Gaza to evacuate, when there's no safe place to go, is not an effective warning."
"The roads are rubble, fuel is scarce, and the main hospital is in the evacuation zone," he said. "World leaders should speak up now before it is too late."
Egypt has been alarmed by the potential of tens of thousands of Palestinians flooding out of Gaza into its Sinai Peninsula. It has moved thousands of security forces toward the border to prevent a breach, a senior Egyptian security official said on condition of anonymity because he was not authorized to brief reporters. At the same time, it is trying to negotiate entry of humanitarian aid to Gaza. Egypt's Rafah crossing, the only entry not controlled by Israel, has been closed because of airstrikes.
The evacuation order was taken as a further signal of an already expected Israeli ground offensive, though no such decision has been announced.
Israeli Prime Minister Benjamin Netanyahu has vowed to "crush" Hamas, which has ruled Gaza since 2007. His government is under intense public pressure to topple the group rather than merely bottle it up in Gaza as it has for years.
A visit by U.S. Secretary of State Antony Blinken on Thursday, along with shipments of weapons, offered a powerful green light for Israel to drive ahead with its retaliation. Defense Secretary Austin, who met with Israeli leaders Friday, reiterated the United States' ironclad support for Israel, saying military assistance would flow in "at the speed of war."
Still, a ground offensive in densely populated and impoverished Gaza would likely bring even higher casualties on both sides in brutal house-to-house fighting.
Shurafa reported from Gaza City, Gaza Strip and Lederer from Chicago. Associated Press writers Joseph Krauss in Jerusalem, Samya Kullab in Baghdad, Samy Magdy in Cairo, and Kareem Chehayeb in Beirut contributed to this report.
AP
OCT 13, 2023
https://apnews.com/article/israel-palestinians-gaza-hamas-war-c8b4fc20e4fd2ef381d5edb7e9e8308c